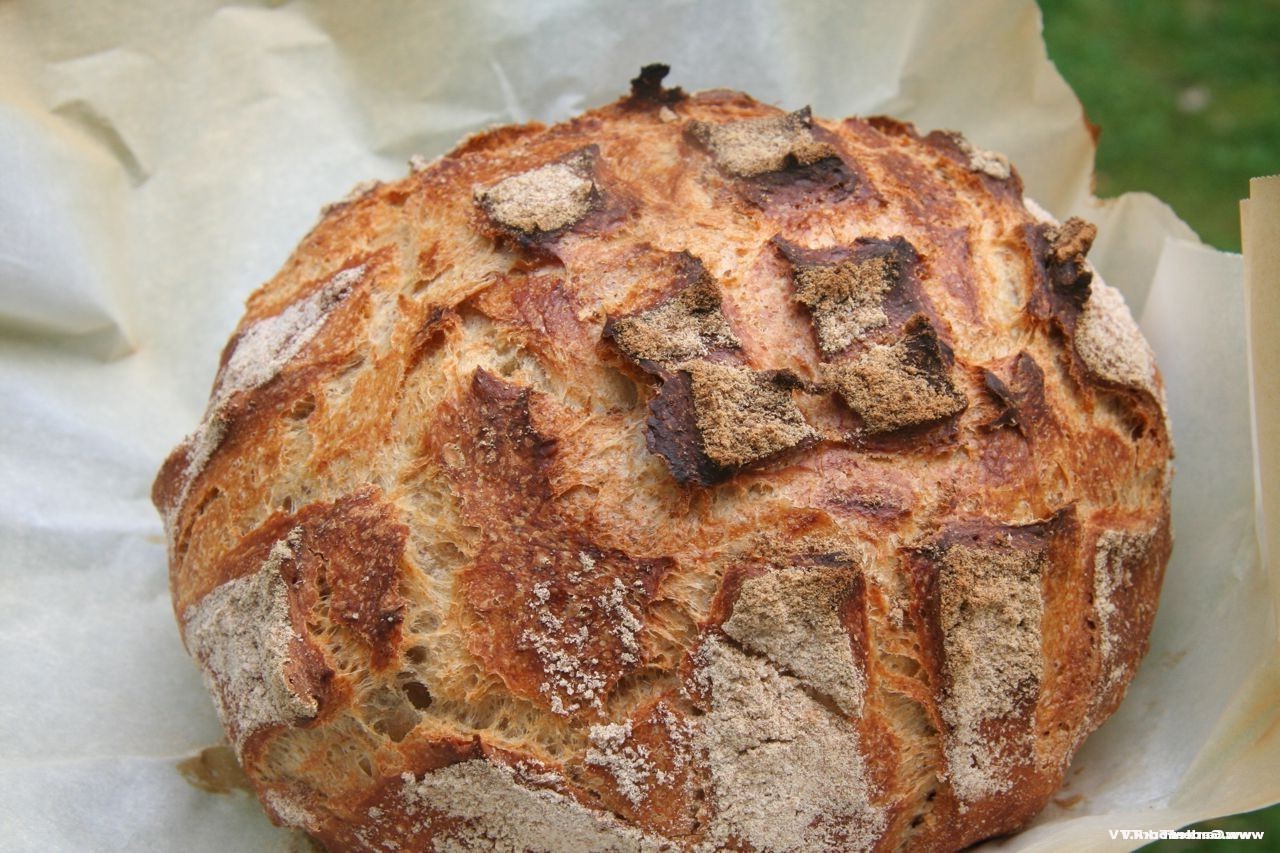 The simplest of ingredients, can make the most wondrous of dishes.  No where is this more true than bread.   Flour, Water, Yeast, and Salt can combine into one of the comforting of comfort foods.
Every culture, every cuisine has some form of  this most basic of foods.  In this missive I'll tackle one of the most basic forms.
From Wikipedia:
Bread is a staple food prepared from a dough of flour and water, usually by baking. Throughout recorded history it has been popular around the world and is one of the oldest artificial foods, having been of importance since the dawn of agriculture.

Proportions of types of flour and other ingredients vary widely, as do modes of preparation. As a result, types, shapes, sizes, and textures of breads differ around the world. Bread may be leavened by processes such as reliance on naturally occurring sourdough microbes, chemicals, industrially produced yeast, or high-pressure aeration. Some bread is cooked before it can leaven, including for traditional or religious reasons. Non-cereal ingredients such as fruits, nuts and fats may be included. Commercial bread commonly contains additives to improve flavor, texture, color, shelf life, nutrition, and ease of manufacturing.

Bread is served in various forms with any meal of the day. It is eaten as a snack, and used as an ingredient in other culinary preparations, such as sandwiches, and fried items coated in bread crumbs to prevent sticking. It forms the bland main component of bread pudding, as well as of stuffings designed to fill cavities or retain juices that otherwise might drip out.

Bread has a social and emotional significance beyond its importance as nourishment. It plays essential roles in religious rituals and secular culture. Its prominence in daily life is reflected in language, where it appears in proverbs, colloquial expressions ("He stole the bread from my mouth"), in prayer ("Give us this day our daily bread") and in the etymology of words, such as "companion" (from Latin com "with" + panis "bread").
A few notes:
We will begin to utilize a more scientific approach, weighing ingredients, we will in later missives begin to deal with hydration levels, types of flours, as well as proofing, shaping, and cooking methods
I strongly suggest the acquisition of of a good digital kitchen scale.  I will also post a chart of common volumetric measures to weight based measure.
A spoken prior, a finished dish is not better than the sum of it's parts, use quality ingredients.  Fresh when ever possible, but DO NOT go for the cheap stuff, it will have an effect.  DO NOTE:  Inexpensive is not always cheap, and cheap is not always inexpensive.

In a stand mixer with dough hook attached Add flours and 300 ml of cool water. Mix until well combined Cover and rest 1 hour

After one hours rest Add salt to basic dough and mix

In a separate container mix 150 ml warm (NOT ABOVE 110 Degrees F / 43C ) and yeast. Cover and Rest 10 minutes

Confirm that the yeast mixture has started to bubble and smells like bread or beer

Add yeast mixture and olive oil to basic dough and mix on low to medium until smooth and stretchy (8-10 minutes) Cover and rest until at last doubled in size, treble if possible. (1 1/2 - 2 hours)

Gently remote dough to a baking pan / dish. I use a large well seasoned cast iron skillet. Cover and let rise for an additional 45 minutes to an hour

Place metal sheet pan in oven Preheat oven to 425F / 220C

Uncover the dough, dust with flour / semolina Slash and place in oven Add 1 cup water to baking sheet in bottom of oven. (THIS WILL STEAM / SPLATTER. BE CAREFUL)

Close oven and bake until golden brown, ~ 30-35 minutes Remove from oven, unpan and cool on a cooling rack
Note this is a very basic recipe, the variants and divergent are endless, there are more techniques than there are cooks on the planet.   This is a starter, develop your own recipe, your own technique...
In any case, enjoy ...