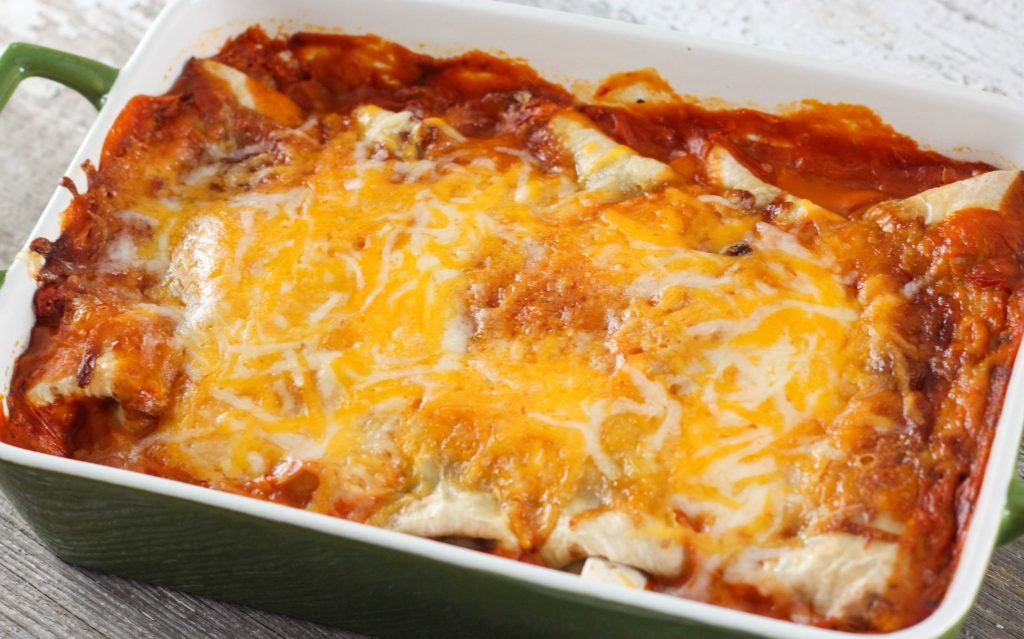 As spoken prior, It is cool to cold today.  I really want Mex-Tex for dinner, so I'm cooking bean and cheese enchiladas.
From Wikipedia:
An enchilada (/ˌɛntʃɪˈlɑːdə/, Spanish: [entʃiˈlaða]) is a corn tortilla rolled around a filling and covered with a chili pepper sauce. Enchiladas can be filled with a variety of ingredients, including various meats, cheese, beans, potatoes, vegetables or combinations.

The Real Academia Española defines the word enchilada, as used in Mexico, as a rolled maize tortilla stuffed with meat and covered with a tomato and chili sauce. Enchilada is the past participle of Spanish enchilar, "to add chili pepper to", literally to "season (or decorate) with chili".
Also as spoken prior, in deference to my roommates these shall be vegetarian.  In deference to my tastes, they shall be hearty.
Preheat oven to 375°F. Spray 13x9-inch glass baking dish with cooking spray. Spread 1 cup sauce over bottom of baking dish; set aside. Stir together 1/4 cup more sauce, beans, 1/2 cup salsa, spices, vegetables, and 1/2 cup cheese in medium bowl.

Top each tortilla with 1/2 cup bean mixture. ( I like hearty entree's ) Roll up and place seam-side down in baking dish. Spoon remaining sauce over top of enchiladas; sprinkle with remaining 1 cup cheese.

Cover dish Bake 30 minutes or until enchiladas are hot and cheese melts. Check for 145 with instant read thermometer
Pass Guacamole, Salsa, and Sour Cream to the side.
Add Tortilla chips as a texture contrast.